List of images wanting clear identification:
I got these from a fellow last year, but have lost/deleted the original email, so I have no idea who to ask about where they came from or what they are. Please Email me if you have anything on these.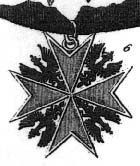 But, before we begin, I found this medal on a page of mid 1800s engravings of various Prussian awards. There was the Black Eagle, the Red Eagle and the Pour le Mérite, as well as two Iron Crosses (one with war ribbon, one with reversed color ribbon.)
The medal has the black eagles between the arms, but what would appear to be a darker enamel. (the B.E. was depicted as nearly white enamel) As you can see, this mystery medal has no center medallion.
While it has no text in the arms as the Pour le Mérite, could this be a 'grand cross' of the PlM that I've heard mentioned? I note too the solid dark colored ribbon. On the same page, the PlM is shown with the 'war ribbon. The BE with a light solid color ribbon.
---
Austrian
Benlux
Bulgaria
France
Italy
Rumania
Serbia
---