Loss of the Hospital Ship Llandovery Castle, 27 June 1918
One of the more tragic episodes of the war was the sinking of the Llandovery Castle by U 86 on the 27th of June, 1918. The sparse entry in British Vessels Lost at Sea 1914-18 (HMSO 1919) simply reads:


Name
Gross

Tons

Date
Position
Cause of Loss
How Attacked
How Sunk
Lives Lost
Llandovery Castle

(Hospital Ship)

11,423
27 June 1918
116 miles West from the Fastnet
Submarine
No warning
Torpedo
146
However, there was more to it that that. The following two items, transcriptions of period pieces, are courtesy of Lori Douglas (douglasmann@shaw.ca). Her Great Aunt Carola Josephine Douglas was one of the nurses lost with the ship. Any further information on the career of the Llandovery Castle can be sent to William Schleihauf or Lori.
This Page is Dedicated to the Memory of the Nurses Lost in the Llandovery Castle.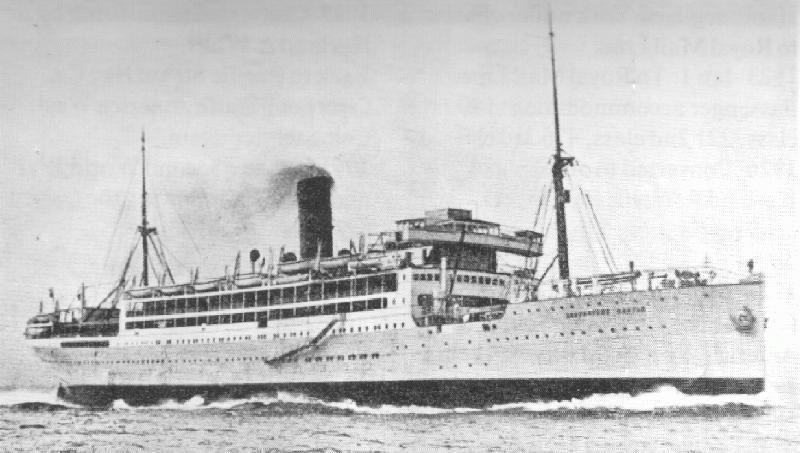 The Llandovery Castle seen prewar (courtesy of Cliff McMullen)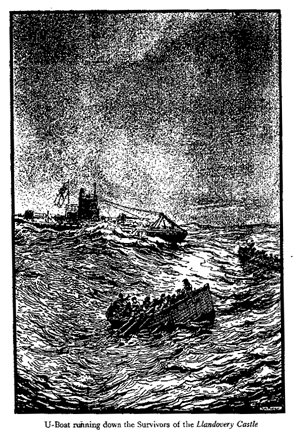 ---
Jeremy in Australia (inpoint@optushome.com.au) notes that:
the ship carried the famous "Accrington Pals" battalion 11th East Lancashire Reg, from Port Said (from the Mesopotamian campaign) to Boulogne (France) on the 2nd of March. On the 1st of July 1916, almost the entire battalion was wiped out on the attack on the Senne fortress on the first day of the battle of the Somme. My grandfather was one of the few survivors. This was the subject of many books, plays and a recent movie. All the soldiers came from one area and were all friends of family and it was a devastating outcome and well documented and remembered.
The Llandovery Castle was in fact attacked whilst my grandfather was on it according to the war diaries of the East Lanc's regiment. The Captain saw the torp tracks and avoided two torpedo's. Not so lucky in 1918.
Check this site out and go to the war diaries section where the ship is mentioned. http://www.a.jackson.btinternet.co.uk/pals_e.htm
---
Last Updated: 23 January, 2004.

Return to WWI The Maritime War

Return to WWI Archive main page.