Royal Roumanian Navy Cruiser ELISABETA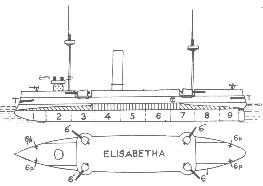 This summary of the Roumanian cruiser Elisabeta is contributed by Greg Kelley (gregk@library.stpaul.lib.mn.us), and was originally posted on the World War II Discussion List (WWII-L@LISTSERV.ACSU.BUFFALO.EDU) 21 March, 1998.
---
Despite its all too brief existence spanning less than a century, the Royal Romanian Navy is rich in both tradition and heritage, possessing warships whose very names spark images of past glories both real and imagined. The sail training ship Mircea, for example, has provided the Navy with ably-trained sailors for most of the Twentieth Century. Then there's the spar torpedo launch Rindunica and its famed exploits during Romania's War of Independence, when, while serving under the Tsarist Russian flag but with the redoubtable Major Ion Murgescu aboard in the role of "special liaison officer", sank the Turkish monitor Duba-Seifi at Macin on 25th May 1877, earning Murgescu both the coveted Romania Star and the Tsarist Order of Saint Vladimir as well as catapulting his career into becoming Romania's first Admiral years later, and, incidentally, ultimately immortalised by having the fleet minelayer Amiral Murgesgu named after him during the Second World War (curiously, an attempt to repeat Rindunica's exploits during the First World War proved far less successful when she failed to sink the Austro-Hungarian monitor Bodrug in 1916, though whether this was due to the absence of the heroic Murgescu, technical differences between Turkish and Austro-Hungarian monitors, or perhaps the rather advanced age of Rindunica -- by then well into her forty-second year -- is a matter of speculation). Few can forget (though perhaps even fewer remember) the torpedo boat Smeul's gallant stand of 13th December 1942, when, outgunned, outnumbered, but never outfought, she nearly singlehandedly (with only incidental assistance from four German R-Boote) fought off the Soviet destroyer Soobrazitelny and a pack of "Fugas" class minesweepers (sources vary from two to four such vessels, often described as torpedo boats, but the general consensus would have them be minesweepers), saving a strategically valuable convoy that included not only the Romanian steamer Oituz but the pride of the Varna-based Societe Commerciale Bulgare de Navigation a Vapeur, the Bulgarian steamer Tsar Ferdinand [built 1913, 2000 tons] -- yes, the very vessel selected by King Boris as his flagship to collect his bride and Bulgaria's future Queen, the Princess Giovanna of Savoy, from Italy in 1930; the Princess spent the voyage in the Captain's Cabin that had been graciously vacated by Admiral Varyklechkov for the occasion, impressed by the courtesies granted her but somewhat discomfited by the discovery of a revolver under her pillow, either left behind by the kindly if absent-minded Admiral -- which makes for some interesting speculation as to the reliability of Bulgarian naval crewmen -- or perhaps to introduce the Princess to some hitherto-unknown Bulgarian wedding custom -- (and please note that this act of selfless Romanian naval bravery occurred after the Bulgarians had stolen the Romanian province of South Dobrudja as part of the vindictive and corrupt Second Vienna Award of 1940, but I digress).
Other ships' names spring to mind evoking similar instances of naval glory -- I for one fondly recall the auxiliary cruiser Regele Carol I and cannot help but admire the courageous crewmen of the submarine Delfinul who actually submerged that hapless vessel beneath the cold dark waters of the Black Sea not once but again and yet again -- however, one warship must always retain a special place of honour, Yes, I am referring to none other than the Royal Romanian Naval Cruiser Elisabeta.
Elisabeta's fame rests not with her physical stature, for indeed, the destroyers of the "Marasti" class were of comparable size, while the "Regele Ferdinand" class destroyers exceeded and the auxiliary cruisers Regele Carol I and Dacia dwarfed her in both displacement and armament. Nor could she claim the distinction of once of the first warships of the Royal Romanian Navy, arriving decades after such legitimate contenders. Still, Elisabeta remains as the Royal Romanian Navy's first, foremost, and indeed only cruiser to ever serve under that prestigious flag, for none of the six cruisers authorised under the 1913 Naval Program, nor even the the included in the 1937 Re-Armament Program, ever progressed beyond the paper planning stage (and NO, I am not forgetting the current warship Muntenia, which falls outside the scope of this discussion, not simply because she may only be a locally-produced variant of a "Kashin" class destroyer, but because until such time as King Mihai is allowed back upon the throne any present Navy can hardly be considered Royal. Of course, Mihai was allowed to visit the Cathedral at Timisoara in April of last year, where he was greeted by an enthusiastic crowd numbering into the tens of thousands, which is certainly on the right track, but then again I digress).
Okay, for the sake of that one or perhaps two members of the List who haven't already memorised the text of Keith Hitchins' recent history on Romania (see "Sources Consulted" at the end of this document), here's an abbreviated historical timeline to help "set the stage" historically --
1859
The Principalities of Wallachia and Moldavia form a Great Union henceforth known as Romania, virtually an autonomous state but officially still under the rule of the Ottoman Turkish Empire, with few Western powers noticing, much less acknowledging, its existence. Local boyars elect Alexandru Cuza to serve as Romania's first Prince.
1866
Prince Cuza is deposed by a coalition of both Conservative and Liberal leaders who are united in their common dislike of Cuza's less than popular rule. Various royal houses of Europe are approached in hopes of obtaining a suitable replacement but to no avail. Finally, Karl Eitel of the fine old House of Hohenzollern-Sigmaringen is offered the throne of Romania; after reportedly consulting an atlas to ensure that Romania is indeed real and not someone's idea of a Balkan prank, he travels incognito to scope out the fledgling Principality but decides to accept the position anyway, er, um, graciously accepts the prestigious honour, becoming Prince Carol (which is Romanian for Charles, or Karl in the German) of Romania.
1869
Continuing a tradition which began with his own appointment, Prince Carol obtains a bride from one of the European royal households and marries Elisabeth Ottilie Luise (1843-1916) of the House of Wied.
Now, Wied is one of those minor royal households whose greatest contribution to European history would seem to have been providing an assortment of charmingly eccentric characters in recent years.
Prince Wilhelm of Wied, for example, had the honour of becoming Albania's first King shortly before the First World War, although his reign was of a rather subdued nature as he never formally ascended the throne or ever set foot inside the country; still, considered by some to have been Albania's Golden Era [and isn't it remarkable how I can sneak a reference to Albania into even a Romanian posting?]. Then there's Prince Victor zu Wied, who with his wife were close friends with Hermann Goering's first wife Carin, spending many an evening in the late 1920's and early 1930's wining and dining the top Nazi hierarchy (Princess zu Wied is said to have been quite the amateur artist, composing colorful sketches of parading stormtroopers, but I digress).
Elisabeth, or Elisabeta as she was known in Romania, spent much of her life establishing hospitals and orphanages throughout the country. Tragically, the royal couple's only child, Marie, died at the age of four, a loss which Elisabeta never fully recovered from, spending more and more time translating Romanian folk and fairy tales as well as composing short stories and novels under her nom de plume of Carmen Sylva (this lack of a royal successor eventually forced Carol to name his nephew Ferdinand as heir to the Romanian throne in 1889, who then proceeded to father Carol II, perhaps the most inept monarch ever to plague Romania throughout its modestly long history, but then that's another story).
1877
The Great Romanian War of Independence, in which Romania, with some incidental assistance from Tsarist Russia, soundly thrashes the Ottoman Turks. Indeed, the subsequent collapse of the Ottoman Empire barely forty years later may have been a direct result of the Romanian Rindunica's sinking of the Turkish warship Duba-Seifi, or then again it may not; the reader is left to judge for himself... %-) At any rate, Romania is now considered a Sovereign State.
1881
Prince Carol is crowned King Carol I, and Romania joins the other Sovereign Kingdoms of Europe and all the demands and obligations such status entails, one of these being national defense. As the fledgling Kingdom now included some hundreds of miles of Black Sea coastline, this required the creation of a Navy.
Well, yes, technically Romania already possessed a Navy, for certain warships were acquired following the Great Union of 1859. Nor is it the intention of this writer to cast any aspersions on such noted vessels as the Stefan Cel Mare, the Fulgerul, or the Romania (to say nothing of the Rindunica!), but in all fairness these were Danubian rivercraft of modest stature and often humble armament. What was needed now were Warships of Note, sizable ships capable of showing the Romanian Flag in the High Seas. Warships were ordered from several European powers, with England selected (partly from its long-standing naval traditions but also as one willing to offer a bargain price to the financially strapped Kingdom) to provide Romania's first Cruiser, to be named Elisabeta in honour of Romania's first Queen.
Elisabeta was built at the Armstrong firm's Elswick shipyards, home of the "Elswick" cruisers famed for that era, though not a true example of that class -- more of a "mini-version" of your typical "Elswick cruiser. Indeed, there are those who cast aspersions upon Elisabeta, with demeaning remarks that describe her more as an oversized gunboat rather than an actual cruiser; however, this writer intends sticking to his story, er, that is the Truth, and refer to her only as a Cruiser (so there!).
Of steel construction, Elisabeta was a single-funneled, three-masted (yes, she was fitted with sails, a common practice with warships of that era) cruiser with an overall length just a couple inches shy of 240 feet (or 73.100 meters for those so inclined). At full load of 1330 tons, she drew twelve and a half feet. Armour protection included 44 millimeters on the deck and side plates ranging from 25 to 88 millimeters thick.
When completed Elisabeta had not yet been fitted with her main armament, which she would receive from the Royal Romanian Naval Arsenal at Galatz some months later; this circumstance, combined with subsequent re-arming later in her career has "muddied the waters" as it were regarding the exact composition of her armament, resulting in Elisabeta being credited with main batteries ranging from 12cm up to 17cm. However, recent research by Rene Greger (see bibliographic citation in Sources Consulted at end of report) indicates that Elisabeta was armed with four 15cm cannon of Krupp manufacture with a calibre length of 35, in shielded sponson mounts located just aft of the bridge as well as further sternwards but forward of the third polemast. In addition, four Nordenfeldt 5.7cm and four Hotchkiss 3.7cm cannon were carried, as were four 35.6cm torpedo tubes (waterline mounts, two midships, one bow and one stern).
Elisabeta completed her sea trials on 14 September 1888 in the mouth of the Tyne River near Elswick, exhibiting a mean speed of slightly more than eighteen knots (18.053 to be exact) while nineteen knots was actually exceeded (okay, 19.049) under somewhat more than ideal conditions, with only a 1263 ton displacement (remember, her armament had yet to be fitted), all twelve furnaces stoked to the max with the finest Newcastle coal, and a VERY calm sea. Not surprisingly, her service speed tended to run a *bit* less, with an official "designed speed" of 17.300 knots, a level attained on occasion early on in her career.
Upon completion of her trials Elisabeta was turned over to her new Romanian crew, commanded by none other than Colonel Ion Murgescu of the Royal Romanian Navy, recently promoted following his successes in the torpedo boat Rindunica. Now, it may seem strange to see a naval officer with an army rank, but then, this was Romania. The Navy was still brand-new, with naval ranks years away. Come to think of it, Romania always did tend to blur distinctions between the branches of its armed forces. Shortly before the Second World War an Army officer by the name of Paul Teodarescu held the positions of Undersecetary for both the Navy and the Air Force. Then of course there's the case of General de Divizie [major-general] Ion Sichitiu, an artillery officer by profession who served as an instructor at the Romanian War College, proved instrumental in the prewar reorganisation of the Air Force, and held the post of Minister of Agriculture to boot. As a further example, in August 1942 cavalrymen of the 8th Rosiori Regiment, 5th Cavalry Brigade (or by then Division) briefly manned, or horsed, several motor torpedo boats and other light patrol craft assembled from an assortment of Soviet warships captured following the fall of such ports along the eastern shore of the Sea of Azov as Jeisk, Temriuk, and Primorsko-Akhtarsk.
So, where was I? Ah, yes -- The Elisabeta's trials were soon completed, and under the guidance of the able Murgescu left England in mid-October of 1888, arriving at the Romanian port of Sulina on 4th November following formal stops en route at Lisbon, Malta, and Constantinople. The next day found Elisabeta at Galatz, site of the Royal Romanian Navy's main Arsenal.
Elisabeta remained at Galatz during the winter of 1888-1889, assembling her crew and, as previously mentioned, being fitted with her main armament. By the spring of 1889 Elisabeta was fully operational and ready to commence the first of what would prove to be innumerable cruises throughout her long career. By this time she was commanded by Capitan [that's Romanian for captain, not a typo] Vasile Urseanu, as Murgescu's duties overseeing the fledgling Royal Romanian Navy left him a bit too busy to pursue a fulltime flag command. Assisting Urseanu as Elisabeta's second in command was Locotenant-Comandor [or lieutenant-commander; see how naval ranks began to appear?] Irimescu. The crew comprised nine officers and 134 ratings; in addition, a dozen civilian instructors and 23 naval cadets were regularly carried, a service which began Elisabeta's tradition of providing the Royal Romanian Navy with ably-trained seamen.
On 15th May 1889 Elisabeta took to sea, cruising the east coast of the Black Sea for two months on a course that saw her visit the Romanian ports of Sulina and Constanta, Varna in Bulgaria, Constantinople, and finally a call at Odessa in southern Russia. From mid-July and well into September Elisabeta's course took her to the farthest reaches of the Black Sea, from Sinope and Trebizond (presently Trabzon) in Turkey, Eupatoria (or Yevpatoriya if you will) and Odessa in southwestern Russia, Yalta and Feodosia in the Crimea, and further east to Novorossiisk, Batum, and even Sukum-Kale on the Georgian coast. As autumn brought a change in weather Elisabeta returned to Galatz, wintering there until spring. The summer of 1890 saw Elisabeta designated flagship of the new First Sea Division, comprising the gunboat Grivitz, the three torpedo boats of the "Sborul" class (Naluca, Smeul, and of course Sborul), and the sail training ship Mircea, all under the direction of Capitan Urseanu.
The following years saw Elisabeta participating in numerous extended cruises, providing the still-fledgling Royal Romanian Navy with ample opportunities of deep-water naval experience, as well as showing the Romanian flag both near and wide, often in circumstances which cannot but have made quite the socio-political statement of the time. Take for example her 1891 actions --
Ostensibly a five-month cruise of Romania's neighbors, Elisabeta began with a January visit to the Turkish capital of Constantinople, but remember, Romanian independence had been hard-won from the Turks only a few short years ago. Suddenly the former vassal-state Principality has blossomed into a Kingdom making formal Calls upon the Turks, with no less than a fully-armed, state-of-the-art Cruiser. Elisabeta then departed Constantinople for neighboring Greece by way of Smyrna, that coastal city so hotly contested by both Greeks and Turks. While at Piraeus in Greece she was boarded by none other than King George I of the Hellenes, whose granddaughter would later become Queen Helen of Romania and give birth to Romania's famed (if last) King Mihai (and who, come to think of it, *also* married a Princess of the Royal Greek family -- coincidence? I wonder...). Further visits during this cruise included ones to France (Villefranche, Antibes, and of course Toulon), Italy (La Spezia, Livorno and Palermo) and Spain (Cadiz), together with calls at both of Britain's gems of the Mediterranean, Gibralter and Malta. Quite a series of Power Visits for any warship!
The following years were filled with similar visits. In 1892 Elisabeta represented Romania at the celebrations held at Livorno, Barcelona and Lisbon that marked the 400th anniversary of Christopher Columbus' historic voyage. She participated in the inaugural ceremony at Sulina of the International Danube Commission (1894) as well as the opening of Germany's Kiel Canal (1895). Further cruises took Elisabeta as far as the Baltic, where she paid host to the King of Sweden during a Stockholm layover, as well as multiple returns to the Mediterranean along with her by now regular tours of duty in the Black Sea. Elisabeta's sleek (well, sleek-ish, anyway) silhouette soon became known on throughout the Mediterranean and adjacent seas -- from Algiers and Alexandria in Africa, the Spanish and French seaboards, Adriatic seaports such as Trieste, Venice, even Pola, and the Greek and Turkish coasts of the Ionian Sea, all were graced by her presence in the years around the turn of the Century.
By 1898 Capitan Urseanu had moved on to other duties, ushering in an era of brief, whirlwind-like commanders. Capitan Eustatiu Sebastian directed Elisabeta's groundbreaking, er, seabreaking exercises when the cruiser successfully launched her torpedoes during nighttime maneuvers (remember, people, this was the Royal Romanian Navy we're talking about, who only a few years previously was limited to riverborne spar torpedoes). Elisabeta also conducted the very first surveys of the Romanian coastline while commanded by Comandor [commander] Alexandru Catuneanu. 1901 saw yet another change of hands when Comandor C. Balescu took over, honing the cruiser's torpedo-launching skills with still more night drills, while the next year it was Comandor Spiropol's turn, leading Elisabeta through an assortment of ceremonial visits, gunnery practices, and the occasional troop landing exercise. Under Spiropol came the actual firing of a Live Torpedo on 31st August 1903, an event said to have "...excited general attention and lively argument" which raises the question of just how realistic those earlier nighttime launchings were.
Still, all these exercises and maneuvers took their toll on the ship, and in 1904, after some fifteen years of almost continuous service, Elisabeta was decommissioned and laid up at Galatz for major repairs and overhaul. By the time she was recommissioned on 15th May 1905 her rigging had been reduced from three to two pole masts, and she encountered one of her first Great Brushes With History.
On 2nd July 1905 Constanta harbour found itself playing host to the rogue battleship Potemkin (yes, I know that her proper name is, or was, or still is, technically -- but I digress -- the Kniaz Potemkin Tavrichevsky, but for the sake of brevity I'll be referring to her simply as Potemkin). In all fairness, "playing host" is perhaps a bit mild. The Tsarist Russian warship with its mutinous crew (and whether their mutiny was caused by rotten food, intolerable disciplinary procedures, a political statement protesting policies of the Tsarist Regime, a quick way to avoid having to steam halfway around the world to be sunk by the Imperial Japanese Navy, or Just One Of Those Things is beyond the scope of this article) arrived at Constanta under conditions just shy of an armed attack.
By this time Potemkin had bested everything the Tsarist forces had thrown at them -- what other Russian ships left in the Black Sea not already disabled were generally smaller craft more inclined to remain in port than to confront Potemkin's guns. Still, the mutinous crew realised their fortunes couldn't last, and were desperately searching for a safe haven, even if it meant fighting their way into a foreign port. As they entered Constanta harbour, they were confronted by the largest warship left afloat and in a condition to challenge them (remember, this was 1905 -- the Bulgarian Navy had nothing larger than a few torpedo boats, while the operational value of Turkish naval units was, shall we say, theoretical at best).
Although certainly outclassed in both size and armament, Elisabeta made quite an impression upon the crew of the Potemkin. Faced with resolute Romanian refusal of either much-needed coal or provisions demanded by the Potemkin, the mutineers toyed briefly with the notion of purchasing the Elisabeta from her crew as a "getaway ship" capable of escaping from the eventual local return of the Tsarist Russian Navy. This potentially intriguing (and certainly novel) avenue of action was never seriously considered by either side, however, and the Potemkin left Constanta only to return a few days later, when in accordance with an offer of amnesty and personal sanctuary for the mutineers from Romania's King Carol I, the battleship formally surrendered to the Elisabeta. On 8th July 1905 the Romanian flag flew for the first -- and only -- time from the mast of a battleship (yes, the 1899 Naval Program made provisions for six coastal battleships of 13,000 tons and armed with 305mm cannon, but they never progressed beyond the paper stage, while neither the "Sovetskiy Soyuz" class battleship Sovetskaya Ukraina nor the "Kronshtadt" class battlecruiser Sevastopol captured incomplete at Nikolayev in 1941 were ever finished nor transferred from German to Romanian ownership, so the Potemkin was IT). Granted, this moment was fleeting, if not indeed transitory, for the scuttle-cocks of the Potemkin had been secretly opened by her departing crew, leaving her resting on the harbour bottom by evening, thereby precluding any actual service with the Royal Romanian Navy (she was refloated and returned to the Tsarist Russian Navy the following month); nevertheless, Elisabeta's contribution to this Great Moment of Royal Romanian Naval History Cannot Be Denied.
1906 proved to be yet another auspicious year in the Elisabeta's career. Accompanied by the torpedo boats Sborul and Naluca -- two fine examples of Royal Romanian warships of noteworthy naval heritage themselves -- Elisabeta represented Romania at ceremonies marking the formal opening of neighbouring Bulgaria's naval facilities at Varna. Elisabeta also made local history when on June 17th 1906 she was outfitted with and indeed operated a Clayton wireless telegraph, although this noteworthy event's practical value was somewhat limited by the fact that the only other such device in Romania, located at the Royal Romanian Naval Station at Constanta, was unable to actually *receive* any messages, but still.....
On 24th August 1906 Elisabeta assisted the steamer Romania in an audacious amphibious exercise at Cape Midia on the Black Sea coast, landing an entire battalion of crack mountain troops of the Royal Romanian Army in the course of a mock seaborne assault. Granted, ten soldiers drowned when one of the landing boats foundered in a swell, but overall the operation was an impressive success. Indeed, one cannot help but wonder how the course of history may have been altered if, years later, the Royal Romanian Navy might have recaptured these lost skills. Imagine, if you will, an amphibious assault upon the besieged city of Odessa in the autumn of 1941. A diversionary raid to destroy port facilities thereby preventing Soviet reinforcement or evacuation, or perhaps an outflanking maneuver on the coast in conjunction with a landward thrust -- Odessa may have fallen before the local battlefield had become a virtual graveyard for the Romanian Army, leaving fresh troops available for further advances into southern Russia. Romanian forces at Stalingrad the following year could have been stronger, possibly diminishing or even averting the disastrous defeat....... but I digress.
As 1906 drew to a close, Elisabeta returned to the Navy Yard at Constanta for further refitting. In the wake of the Potemkin Encounter, Romania's leading naval officials may have grown a bit uneasy in comparing their First Cruiser's modest main batteries to those of larger warships, so in recognition of the need for more powerful (or at least less obsolescent) cannon, Elisabeta underwent a major re-armament. Four new 120mm cannon of Saint-Chamond manufacture (curious how German barrels are often measured in centimeters while Western powers prefer using millimeters; must be one of those Teutonic things, eh? But I digress....) replaced the older Krupp models of her main battery, while similar Saint-Chamond guns of 75mm calibre supplanted the elderly Nordenfeldts. It's possible a couple of her 37mm Hotchkiss guns were disembarked at this time, but final confirmation is lacking. Newer, more reliable machineguns also appear to have been added. The landing of her old armament and fitting of new cannon kept Elisabeta in Yard hands for the rest of the year and indeed for most of 1907 as well, during which Comandor D. Poenaru assumed command.
In the years following her re-arming, Elisabeta continued to provide much needed Fleet Training for the Royal Romanian Navy in addition to her valued role of "Showing The Flag" at various events such as competitions against warships of other navies, providing navigational assistance by planting signals masts and buoys in coastal waters, and other like services.
On 25th June 1908 Elisabeta presided over the opening of the Royal Romanian Naval College at Constanta. 1910 saw Comandor Poenaru replaced by Capitan Alexandru Catuneanu, who, as fortune would have it, would lead Elisabeta into action, for the cruiser's years of peaceful service were indeed numbered.
In 1912 Elisabeta was dispatched to Constantinople where, in the wake of the First Balkan War Romanian interests faced potential hazards from the locally unstable conditions. No fewer than three fully-armed shore parties -- two small fifteen-man squads and a hundred-strong formation -- were landed by the Elisabeta to protect the Romanian Legation. Elisabeta remained on station in Constantinople harbour during this time of unrest, her coal bunkers supplied by deliveries from the Romanian steamship Turnu Severin. The reader is humbly requested to Make Note that a mere thirty-five years following Romania's War of Independence against Turkish vassalage, it was Elisabeta who successfully (none were reported as having drowned during the operation -- the Cape Midia operations must've held her in good stead) landed troops at the Ottoman Turkish Empire's very Capital, the Grande Porte. Truly a Great Moment for Romania.
The outbreak of the Second Balkan War in 1913 saw Elisabeta take up a combat station at Sulina, defending the entrance to the vital Danube River from possible Bulgarian advances. The Bulgarians wisely avoided an encounter with the Elisabeta (and the subsequent thrashing of their modest naval forces such an encounter would doubtless entail), choosing instead to concentrate their military efforts on land (where their troops were soundly thrashed by elements of the Royal Romanian Army, but I digress).
1914
1914 saw Elisabeta under the command of one Capitan V. Pantazi. Whether this officer was indeed related to General de corps de armata [Lieutenant General] Constantin Pantazi, Romania's Minister of National Defense during World War II is one of those questions I'd really like to answer with more than just a qualified "maybe", but cannot. Available biographical sources on these two officers are sketchy at best; Constantin was a cavalry officer by profession and in 1914 would have been about twenty-five years old, so it's possiblethey may have been brothers, or even father & son, but this is only conjecture. I have encountered instances of middle-ranking -- colonels and majors -- officers serving in the Royal Romanian Army during the Second World War whose names are the same as certain Royal Romanian Naval officers of the early 1900's, but for now have no way of knowing if this represents family connections or simply common last names. Certainly cause for yet another research project as time & resources permit, but I digress.
Upon the outbreak of the First World War the Elisabeta again took up station at Sulina, where her presence served to enforce and protect Romanian neutrality. When Romania entered the War in August 1916 the cruiser's advanced age and subsequent obsolescent condition led the Romanian High Command to remove her main armament for shore duty. As a defense against advancing Austro-Hungarian river monitors, the banks along the Danube's Kilometer Markers 435 to 443 were fortified as the "Turtucaia Position" utilising Elisabeta's 120mm and 75mm cannon as well as her torpedo tubes. Even the cruiser's original elderly 15cm Krupp batteries, in storage since their removal in 1907, were hauled out for deployment at this vaunted, if ultimately unsuccessful, redoubt, for as the fortunes of war would have it, the Romanians were forced to abandon the "Turtucaia Position" under pressure from advancing & encircling forces of the Central Powers. The main guns were removed to Galatz, where they briefly shelled German batteries before being lost during the Great Retreat, er, Withdrawal, of December 1916. Still, even this action can be interpreted by some, or at least one, as being only a temporary setback, arguing that those Austro-Hungarian warships -- mostly river monitors of the "Bodrug" class -- that did penetrate Romania's waterways ultimately fell into Romanian hands a scant two years later. Of course, the collapse of the Central Powers and the subsequent end of the First World War helped....
Elisabeta herself remained at Sulina throughout the War, stubbornly serving as a virtually unarmed guardship (with both her main and secondary batteries together with her torpedo tubes deployed in the "Turtucaia Position" and her 37mm Hotchkiss guns apparently disappearing before the War, all she had left on board were a couple of machineguns and the crew's small arms) under the command of Capitan Balanescu (although a Comandor Eugenio Botez is also mentioned during these years). She supported, or at any rate was present, when the Tsarist Russian battleship Sinope ("Imperatritsa Ekaterina II" class warship) entered the mouth of the Danube on a fire support mission for Russian and Romanian troops in 1916, undoubtedly the only time a Royal Romanian warship participated in a Battle Squadron of Capital Ship stature. When the Central Powers collapsed in the fall of 1918 bringing long-awaited Victory to the Allies, Elisabeta was still afloat, having bested (or at least avoided) anything the enemy had thrown against her. Throughout the long and difficult war years, the standard of the Royal Romanian Navy reamined flying proudly from the Elisabeta's mastheads.
Alas, the strains imposed upon this gallant warship during the First World War proved to be mortal in nature for the Elisabeta. The postwar era saw her still extant, but nearly totally disarmed and physically much deteriorated. Returning to Galatz in 1919, she served briefly as a transport, but even this duty proved more than the aging warship could manage, and in 1923, when Jane's Fighting Ships was describing her machinery as "...now practically useless", she made her final voyage -- still under her own power -- back to Sulina, spending her last days virtually hulked as a barracks ship and stationary training vessel for stokers. 1926 saw an end to this ignominious duty when Elisabeta was delivered to the breakers for scrapping (some sources suggest she wasn't broken up until 1930, but this is unlikely -- wishful thinking at best).
Little remains of Elisabeta's physical self today -- the ship's compass, a steering wheel, some incidental knicknacks displayed alongside the model of the cruiser at the Romanian Navy and Merchant Service Museum at Constanta -- but her spiritual legacy is perhaps inestimable.
Despite her never serving in combat during any part of her long career, she remains to this day one of the most popular vessels in Romanian naval history. The model of the Elisabeta on display at the Romanian Navy and Merchant Service Museum at Constanta holds a cherished place of honour among the exhibits, harkening back to a time when the Pride of the Royal Romanian Navy steamed the Seven Seas (Black, Mediterranean, Atlantic, Baltic, Marmara, Ionian, Adriatic, heck, that's seven already, and I haven't even mentioned, like, Azov or Tyrennian; what, it's gotta be THE Seven Seas?!?). It is difficult, if indeed even possible, to measure the value of her many contributions to Romanian naval history, from her high seas/deepwater training cruises to the prestige provided by her very being. Elisabeta was present when the foundation stones for Constanta harbour were first laid in 1897, and at the christening of not only the Regele Carol I, which later provided sterling service as an auxiliary cruiser and minelayer during both World Wars, but also the Romania, which also served as a minelayer during the War but also briefly as the Royal Romanian Navy's one & only seaplane tender. Elisabeta conducted numerous amphibious exercises ranging from operations involving a few dozen soldiers up to the landmark (coastmark?) Cape Midia deployment of an entire battalion, not to mention her historic 1912 troop landing at Constantinople. Her contributions in local surveys for navigational charts, buoys, and maritime operations were also much valued and often unique on a local or National scale.
Doubtless the traditions established throughout her long career stood the Royal Romanian well during the trials and demanding sacrifices of the Second World War; I for one would like to believe that the Spirit of the Elisabeta was with the sailors on board the gallant torpedo boat Smeul that fateful day when she stood against overwhelming Soviet odds, and with the courageous crew of the submarine Delfinul every time she braved the icy depths to submerge, and with all the officers and men of the Royal Romanian Navy whenever faced with mortal danger, or near-mortal danger, or painful semi-harmful danger, or the mindless tedium that comes with endless monotonous patrols, or..... no, wait, I'm losing my train of thought......
Well, at any rate, in the semi-informed and perhaps *slightly* slanted opinion of this writer, the cruiser Elisabeta deserves all the distinction duly accorded her as perhaps the greatest -- and only -- cruiser to serve under the banner of the Royal Romanian Navy. History Must Not ignore this gallant warship.
Sources Consulted
As always, blame, er, responsibility, ah, make that Credit, must go to the hard-pressed, oft-overworked but ever-helpful staff at the Nordost Research Archives for their assistance in making this Study a reality (thanks, guys!). Various and assorted general works contributed to either historical background or local "flavour", examples of these being Keith Hitchins' splendid Rumania 1866-1947 (Oxford University Press, 1994) and a wondrous article in the July 1997 issue of Royalty Digest (Volume VII, Number 1) describing King Mihai's recent visit to Timisoara.
A special thanks also goes to Brooks Rowlett for providing several sets of invaluable photocopies on the Royal Romanian Navy and the Elisabeta in particular, without which this study could not have been completed (but no, that does NOT mean this posting is his fault! Honest!).
As for more specific sources, those which I can recall are cited below --
Conway's All the World's Fighting Ships 1860-1905, 1906-1921, & 1922-1946 editions Conway Maritime Press, 1979, 1980, & 1985.
"Elisabeta" by Mihai Georgescu, in Warship International, No. 2, 1984.
"Elisabeta and her Armament" by Rene Greger, in Warship International, No. 2, 1984.
Hough, Richard. The Potemkin Mutiny, Pantheon Books, 1961. c1960.
Illustrated Encyclopedia of 20th Century Weapons and Warfare Columbia House, 1977.
Jane's Fighting Ships various editions, 1898 to 1927.
(and no doubt others which I've since forgotten....)
---
Return to WWI The Maritime War
Return to WWI Archive main page.
---
Last Updated: 1 April, 1998