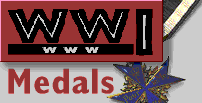 Welcome to WWI/WWW's:
Medals and Awards of the Great War
Pages by: Micheal Shackelford -- Images and text supplied by: Tim Tezer, Les Peters & Micheal Shackelford
---
Index
Britain -- France -- Russia -- Italy -- United States
Germany -- Austria -- Turkey -- Bulgaria
Click on the thumbnail images for an enlarged view
---
Introduction
Nearly all of the nations involved in the Great War had medals and awards which they bestowed upon their citizens and allies for meritorious service or specific acts of bravery. Many of these awards existed long before the war. Some had long and complex histories. Some were newly instituted during the war.
Awards can be split into two rough categories: Orders and Medals, though by the 20th century, the distinction between the two had become somewhat blurred.

Orders -- Some awards go by the name of "Order" and represent an ancient practice. They date back to the times of the crusades, when knights organized themselves into groups which transcended the customary feudal arrangements. One of those ancient groups was the Knights of St. John, Hospitalers, also known as the Knights of Malta. They wore, as a symbol of their membership, a white, eight-pointed cross. (a badge from the Russian branch of the Order of the Knights of St. John, is shown above.) To be granted membership into an order (similar in concept to monastic orders) was a mark of distinction and honor.
During and after the Renaissance, many monarchs established knighthood orders of their own. Some Orders, like Britain's Order of the Garter, are still exclusive groups in which one becomes an actual member knight in the Order and acquires the title of 'knight.' Many Orders had varying degrees of award, which reflect their knightly origins. Often, the lowest grade of an award were called the 'knight's cross.' Higher degrees of award were often called 'commander.' Occasionally an even higher grade, called a 'Grand Cross', reflected the fact that a knighthood order was often presided over by a Grand Master.
Other 'Orders', such as Prussia's Pour le Merité, were referred to as 'Order of...' and recipients were sometimes referred to as 'knights of...' but there was no formal group of member knights. There was no Grand Master of the Orden Pour le Merité, and recipients did not receive the social title of 'knight.'
Medals -- The custom of awarding medals is also ancient. Originally, medals were special coins or medallions, struck to commemorate some noteworthy event. Having one's monarch present such a token was indeed an honor, but no membership in any group was implied. Later, people would wear these coins. Later still, came the practice of hanging the coins from bits of colored ribbon. Eventually, the color and pattern of the ribbon became the significant means for identifying particular medals.
Branching off of the original commemorative theme, medals can be divided into a few significant subgroups. The distinction between various awards is not always clear. The 'rules' for awarding some medals changed over time.
Bravery Awards / Merit Awards -- Some medals were awarded for specific acts of bravery or special meritorious service (military or civilian). Many bravery awards had specific requirements that potential recipients were expected to fulfill.
Campaign Medals were struck to commemorate specific battles or campaigns. They were then awarded to people who served or fought directly in that campaign.
Service Medals were similar to campaign medals but were applied to a larger scope of events. After the war, most nations honored all veterans who served by awarding a service medal -- regardless of any campaign or specific battle.
Faithful Service awards were given to honor service over time, (10 years, 25 years, etc.) rather than specific campaigns or wars.
---